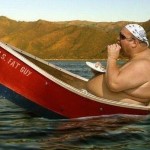 Just an average week in the gastronomic heaven of home cooking jeanette style!
Sunday: Went out to Quecumbar for music, wine and song.
Monday: Wat Tan Hor (smokey chinese noodles with prawns).
Tuesday: Steamed salmon with purple sprouting broccoli and potato salad.
Wednesday: Kerala fish curry.
Thursday: Jeanette out so had to fend for myself with a mushroom sauce on toast
Friday: Chicken goujons stuffed with cream cheese
When I left home for uni at the age of 18 I 'learned' to cook – pasta and a jar of sauce was about the best I ever got. I hope my kids appreciate what fantastic variety and expertise they're tucking into. I know I do!