We helped out at the St John's Hill Festival in Clapham Junction this weekend. Well I say we, I looked after the boys, Jeanette set up her face-painting stand and helped our good friends Sim & Robin out on their cake stand.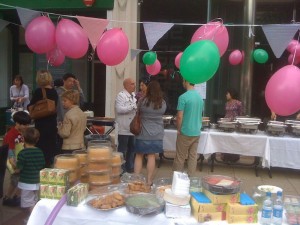 Although it wasn't a particularly nice day, there was a good turn out and all in all it seemed to be a better event than the Lavender Hill Street Party that took place in June. That was more of a pavement party, due to the busy traffic cutting off one side of the road from the other.
I took the opportunity to check out the office of our old client Image Wizard television, but it seems they've moved on.