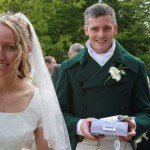 My youngest sister Sarah tied the knot the last weekend, to her lovely fiance Ian.
Sarah's a teacher near Bath and Ian's a successful property developer – making money "selling houses to the English" as his best man put it.
However their future plans revolve around more pastoral pursuits and Ian's keenly interesting in goat farming.
When I was young we had goats on the farm, usually only two, and they were a right handful. Always escaping and eating my fathers latest garden plant. So what happens when you get 50 of them together I don't know.
Anyway back to the matter in hand – it was a beautiful wedding, held over Saturday (church) and Sunday (music, food, dancing) and we saw lots of old friends. The marquee was on the back lawn where almost 10 years ago Jeanette and I had our lovely wedding reception.
A good time was had by all!