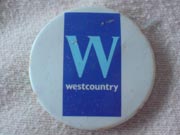 I found out by chance the other day that ITV have shut down Westcountry TV and made most of the staff redundant.
I worked at Westcountry TV from 1990-1993, straight after University. It was one of the best jobs I've ever had and I'm rather sorry to see the old company disappear.
Wikipedia gives a good potted history of the station, which underwent quite a few acquisitions over the year – although when I was there it was under the original small company that won the ITV franchise. My bosses were Ray and Sim Harris
The company had made a commitment to local news in the franchise award, which meant I had the good fortune to be based in Exeter for my 3 years. Since there is now only one ITV Plc, I  guess these commitments have been thrown out of the window now – there's is apparently no way ITV can be run as franchises with all the benefits of competition this entailed.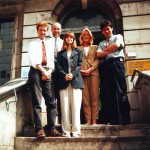 The team in Exeter was small, just 4 of us most of the time, and we really felt we were our own little TV station – we put out our own little 2 1/2 minute "opt-out" from the main local 6pm news, broadcast live from the Exeter Arts Centre where our offices were based.
Steve 'Buckets' Jennings, David Whitbourn, Broni Lloyd-Edwards and Sarah Windsor (from Barnstable as was made clear) were my first set of co-habitees in Exeter and we had a fantastic time there (when not being ordered about by the big bosses up in Plymouth!). Steve in particular was a mentor to me. His humour, intelligence and technical skills, along with unstinting kindness taught me so much in those 3 years.
After 3 years I was ready for a change, and drove off to France in my lovely old Triumph Spitfire.