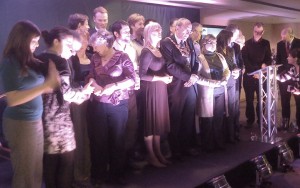 The Wandsworth Green Business Awards were held yesterday at the Pestana Chelsea Bridge Hotel. Unfortunately we didn't win this time for our green server hosting, but it was a popular event. I'd say around 250 people attended and it was very well organised.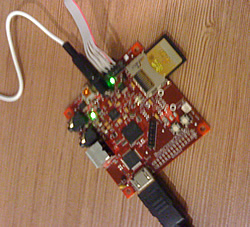 The winners included Hakan from Linebyte, an IT company. Hakan was demoing a nifty little micro-computer (pictured) for which he's been rewriting the linux kernel, drivers and all sorts. Unlike the VIA/Atom boards, everything on this board is low power and ultra small. Power consumption for the whole unit is just 2W. Power is from USB. All it needs now is an application or two…Any suggestions, please comment below!
Another worthy entrant was Technology Solutions, who are bravely punting Linux based desktops for small businesses. All application software is Open Source based so no licence fees.