The evening standard reported that inventor Tim Hunkin, best known for the Channel Four television series The Secret Life of Machines has created an amusement arcade of machines made from parts such as windscreen wiper motors amd wok lids and it opens in Holborn, Central London from 11th February 2015.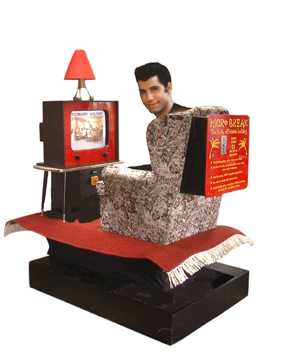 Tim has filled the former art gallert with 16 "mad" coin-operated machines, each providing a bizarre or humerous mini-adventure. In Microbreak, users are taken on a three-minute package holiday while never leaving an armchair. In Test Your Nerve, participants have to put their hand close to the jaws of a red-eyed dog. Tokens to operate the machines can be bought at the arcade for as little as £1.
Mr Hunkin was quoted aas saying he felt "a missionary zeal to reinvent amusement arcades". He already has one, the Under the Pier Show in Southwold, Suffolk. Hunkin's "Under the Pier Show" at Southwold Pier, England is a penny arcade featuring a number of humorous, coin-operated machines of his creation. Attractions include the "Autofrisk" (a device that simulates the experience of being frisked by multiple, inflated rubber gloves), the "Bathyscape" (a device that simulates a brief submarine adventure) and a somewhat rude sculptural clock.
Novelty Automation is at 1 Princeton Street and opens Wed-Sat 11am-6pm