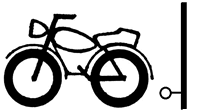 Near where I work, Lambeth have added a rail to the motorbike parking, which allows us to lock our bikes more securely. Great – but why does the locking bar have a full height railing attached to it?
The result is, the only access to bikes is from the road, not the pavement. How safe is that? Not to mention when the bikes are parked closely together (there are never enough motorbike parking spaces in any given area), it can be very hard to reach inner bikes.
You wouldn't put a railing along the pavement where cars are parked, forcing the drivers to enter their cars from the road, so why do it to bikers?